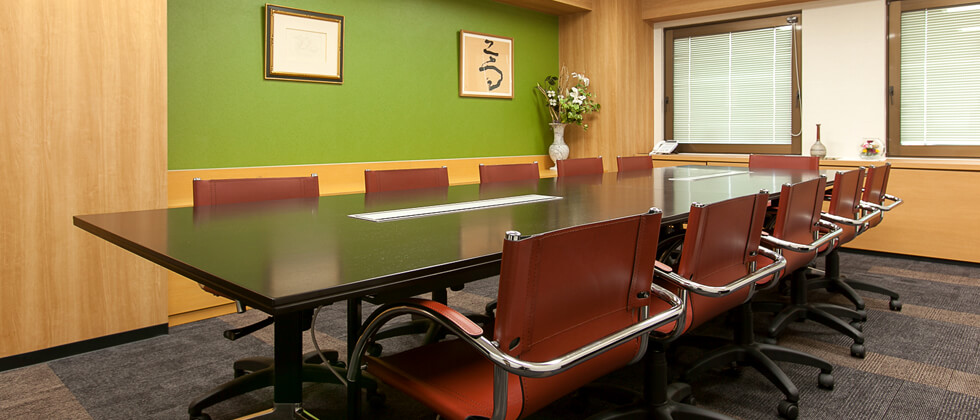 Sakurazaka Law Offices was founded in January 2015 by five attorneys having a range of 40 to7 years of experience as lawyers.  "Sakurazaka Law Offices" is named for its location on Sakurazaka a quiet, secluded, leafy, breezy hill in Akasaka, Tokyo.
In Sakurazaka Law Offices we proud of the level of individual professional skills of each attorney. We are always ready to gather our expertise expeditiously and effectively to suit the nature and complexity of the case/matter. We provide high-quality legal services on a wide variety of issues that our clients encounter.
At Sakurazaka Law Offices, we have adopted a free address policy where no attorney has a fixed desk.  This is uncommon among law firms in Japan.  Free address policy facilitates communication across the office and enhances the efficiency and effectiveness of our operation.
We are capable of providing the best solutions on various issues to our valued clients through in-depth analysis, consultation and good teamwork.  In addition, we have elected to be a specialized law office in order to make our services more competitive and distinctive.  Toward this end, we are committed to continuously developing our skills and expertise in intellectual property matters each and every day.

The Sakurazaka Law Offices focus on intellectual property matters and where intellectual property intersects with other legal fields. Intellectual property intersects with many other legal fields such as competition law, pharmaceutical law, consumer protection law, personal data protection law, cross border transactions and disputes, general corporate law, out-bound transactions, overseas expansion and insolvency law. We not only represent clients in litigation and in appearances before other tribunals, but also provide legal advice and consultation in connection with commercial transactions, a corporate or organizational operation, and commercial trade including cross border transactions.
We represent clients in connection with:
Intellectual Property Rights Disputes:

intellectual property rights litigation (patent, trademark, design, copyright, unfair competition), appeal from a Japan Patent Office decision, trial case in the Japan Patent Office (invalidation trial, appeal against an examiner's decision of rejection, etc.), Alternative Dispute Resolution (ADR), dealing with a warning letter and related negotiations, employee's invention disputes and border control.

Negotiations Related to Intellectual Property:

licenses, technical cooperation, joint development, and others.

Legal Advice on Intellectual Property Matters:

infringement and validity appraisal, legal opinions, the handling of jointly-owned patents, advice on legal issues related to intellectual property rights associated with the transfer of a business, advice on legal issues related to the Trademark Law and the Unfair Competition Prevention Law, trade secrets and personal information management, copyrights, brand management, and merchandise.

Preparation and Revision of Employee's Invention Policy

Advice on the Establishment of Trade Secret Management Systems

Contracts Related to Intellectual Property:

technical cooperation, joint development, confidentiality agreements, patents and know-how licenses, trademark licenses, copyright licenses, software-related contracts and design development contracts.

Various Contracts and Negotiations:

manufacturing agreements, supply contracts, dealer-agency agreements and operating agreement.

General Consultation on Intellectual Property Management and Intellectual Property Legal Work:

prevention of intellectual property disputes, consultation and strategic advice on trademark, unfair competition law, trade secret and establishment of personal information management systems, copyright, brand management, and commercialization.

Awareness Building Activities for Management and Employees:

provision of intellectual property education and training about trade secret problems, trademark protection, anti-counterfeiting measures, prior use rights, open-close strategy and brand strategy.

Civil Lawsuits

Cross Border Foreign Litigation Support

General Corporate and Company Advisory Services:

in particular, intellectual property-related domestic and international matters, IT-related matters, antitrust law-related matters, product liability-related matters, crisis management systems, consultations related to the handling of various harassment complaints, antitrust law-related matters, Pharmaceutical Affairs Law related matters, bankruptcy, insolvency and civil rehabilitation-related matters, consumer protection laws related matters, Personal Information Protection Law related matters, labor law-related matters, business playing various contract creation, litigation, overseas-related business.

Bankruptcy Legal Work:

civil rehabilitation (creditor agent), bankruptcy (trustee, alleged agent, creditor representatives), special liquidation (debtor agent), voluntary liquidation/restructuring (debtor agent).

| | |
| --- | --- |
| Name | Sakurazaka Law Offices |
| Founded | January of 2015 |
| Address | 4F Enokizaka Bldg., 1-12-12, Akasaka, Minato-ku, Tokyo 107-0052 Japan  [Directions] |
| Tel | +81-3-5563-1501 |
| Fax | +81-3-5563-1502 |
| Office Hours | 9:30a.m. – 6:30p.m., Japan time |
| Holidays | Saturdays, Sundays and Public Holidays |